How to energise your team?
Lean Six Sigma Yellow Belt training gives you the fundamentals you need to tackle process improvement. It introduces the Lean Six Sigma DMAIC improvement cycle and shows how it can be applied to business processes. Lean Six Sigma DMAIC helps you gain insight into process problems and solutions.
The Lean Six Sigma software - unique to LeanSixSigmaTraining.com - is designed to help you with your improvement projects. Check out the software and see how you can take a step by step approach to the application of DMAIC. More>>
Your success with Lean six sigma depends on the team supporting your efforts. The course shows you how to create your lean six sigma improvement team. Discover how you can involve team-members as part of your improvement process, harness their ideas and make the changes that deliver results.
At the end of the Lean Six Sigma Yellow Belt course, there is a multiple choice exam. The exam helps confirm your understanding of Lean Six Sigma Yellow Belt principles. It takes about 50 minutes to complete the exam and it is a core part of your Lean Six Sigma certification.
Lean Six Sigma Yellow Belt training shows how to move away from making decisions based on gut-feeling, to start using tools that establish cause and effect relationships. It is the first step to Lean Six Sigma Black Belt Certification.
Learn Lean Six Sigma principals.
Discover how to apply Lean Six Sigma principals in a team environment
Get certified.
Part of your certification in Lean Six Sigma Black Belt
Practical step by step methodology.
Learn how to move quickly from problem analysis to action plan
Proven approach.
The same Lean Six Sigma training provided on our Lean Six Sigma workshops

Use the Lean Six Sigma Yellow Belt training module to train your team in Lean Six Sigma!
Lean Six Sigma training becomes more affordable when you can use the training modules to teach your team about Lean six Sigma. The Lean Six Sigma Yellow Belt course introduces the DMAIC improvement cycle and is suitable for many people.
When you empower your team members with Lean Six Sigma training, you no longer need to explain the tools because they already know and want to try them out.
At the end of this course you and your improvement team will know how to define the problem being studied, the importance of not jumping to the first idea that comes to mind but measuring the problem instead. You will learn analysis techniques that help you understand the problem. Only then will you seek improvement ideas using team-based idea generating techniques. Finally you will learn about putting in controls to lock in the improvement and avoid a return to the old ways. You will learn the Define, Measure, Analyse, Improve, Control cycle - DMAIC.
What is Lean Six Sigma Software?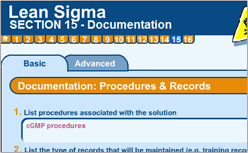 Lean Six Sigma Software is unique to LeanSixSigmaTraining.com. It is not statistical software like the R Statistical software.

Lean Six Sigma software is an easy to use template for process improvement. It walks you, step by step through the DMAIC improvement cycle making it very easy to apply Lean Six Sigma. It like having your own person tutor - it simplifies the process of creating a permanent solution to process problems. The software helps you break down problems into component parts and focus on core issues.

It can be used as framework for both Yellow Belt, Green Belt and Black Belt projects where the key difference is the complexity of the project and the range of analysis tools being used.
You can introduce Lean Six Sigma to your organisation with the Lean Six Sigma software, it walks your team step by step through the DMAIC improvement cycle - and its unique to LeanSixSigmaTraining.com
When you only have time for results, it has to be Lean Six Sigma training course.
100% online course so you can study anytime at a pace that suits your schedule. The course is voice-overed making it easy to study.
Highly interactive means you can apply the Lean 6 Sigma blueprint to a real problem as you study.
Use Lean Six Sigma online software while you study and avoid all those flip charts. The only online software supporting your lean six sigma implementation.
The fast focused course means you will be soon running lean six sigma improvement projects.
No math required, the course explains how the systematic implementation of lean six sigma concepts improves performance.

100% online training
During the Lean Six Sigma Yellow Belt course you will learn how to:
Structure approach to solving problems
Set up your Lean Six Sigma team
Define the problem
Determine the nature of solution
Set targets
Map the problem
Analyse impact
Assess Risk
Apply deep dive analysis
Identify solutions with idea generating techniques
Prioritise solutions
Create action plan
Apply corrective actions
Apply verification methods
Validate the capability of the solution
You will then be assessed on the above sections through a multiple-choice assessment
The Lean Six Sigma Yellow Belt online training course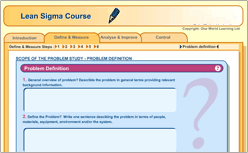 The Lean Six Sigma Yellow Belt course is short compared to the days and weeks required with traditional class-room training. It is designed for the busy professional who needs training that is practical and immediately usable .

The Lean Six Sigma course describes how you can apply lean six sigma tools a problem. The systematic, step by step blueprint removes ambiguity and provides strong direction to Lean Six Sigma improvement teams. It asks probing questions and promotes a comprehensive approach to problem resolution.