How to be the go-to person in your organisation?
Every business needs a go-to person, the person who knows what is happening and can deliver performance improvement. The person who is asked to take on the special projects. Lean Six Sigma Green Belt gives you the tools to be the go-to person in your organisation.
Green Belt tools are not complex. They are effective techniques that help you focus on key issues. The Green Belt training course looks at the common wastes in processes and how to tackle them. Excess movement, inventory, cycle-time, defects, service levels all come under the spot light.
Create the Value Stream map and identify the 'critical to process' and the 'critical to quality' metrics. Collect the data that reflects performance. Analyse and investigate the core issues. Focus in on the root causes and generate solution ideas. Update the process and lock in changes with process control plans.
At the end of the Lean Six Sigma Green Belt course, you will have the confidence to take on bigger projects. You will have a range of tools which can be used to deep dive into performance issues and build better solutions.
You can start your training now and in a few minutes start learning techniques that have generated breakthrough performance improvements over the last two decades.

Fixing problems faster
Operating lean supply chains
Co-ordinating resources
Survival is about cutting cost, achieving more with less and becoming the centre of excellence. Lean Six Sigma Green Belt training introduces the tools that make a big impact. It helps you solve problems faster by setting the agenda for your team and explaining how to manage improvement projects.
Green Belt training for cross functional problem solving - a practical approach to Lean Six Sigma principles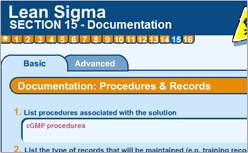 Lean Six Sigma Green Belt training delivers faster and better solutions, ensuring cost effective results. It delivers clear visibility and accountability.

Lean Six Sigma Green Belt training is an efficient tool for cross functional problem solving, that takes a common sense approach and gives clear visibility & accountability to management, delivering faster problem resolution.

Lean Six Sigma Green Belt training guides people through a process, avoids tangents and implement a Lean Six Sigma philosophy. It follows a probing line of questioning that focuses the team on issues and avoids a blame culture. Lean Six Sigma Green Belt training combines brainstorming, problem mapping, filtering & prioritization to produce a streamlined implementation of Lean Six Sigma.
Why does Lean Six Sigma training work?
Easy to learn, easy to use, simple and logical. Quickly focus teams on faster cycle time, better quality, less waste and greater efficiencies.
Improved visibility and accountability. Where is progress being made and where are teams stuck? Track progress easer when teams have a formula for process improvement.
Develop the team culture. Project manage the improvement team with best practice principles from Green Belt training.
Automate existing improvement processes. Don't loose all the information on flip charts and sticky notes, capture and reuse with Lean Six Sigma support software.
How you can transform your business process?
It can be a struggle getting the improvements your business needs. Every process has its own challenges, there are often reasons given why improvement ideas wont work. The reason Lean Six Sigma has been so successful is the clear approach taken to process improvement. The DMAIC cycle is a logical step by step technique for process improvement.
The easy-to-follow course explains how to investigate the "AS-IS" state of the process. Find out about the importance of measuring key process factors and focusing attention on the "critical to quality" metrics Discover the potential of the process with value stream maps, root cause analysis and capability studies. Choose the best solutions, the ones that work best for your business. Finally, lock in the gains with updates to operating procedures, control charts etc.
Let's talk - do you have an idea for a project. Why not share your idea and get some feedback. Just write a short summary of your proposed project below;
Be sure to include details on your level of experience and the level of support for this project within your organisation. Now click submit and we will come back to you.
Privacy policy: We do not share your information with anybody. We will not be sending you spam emails.
Faster cycle time
Less waste
Greater efficiencies
Better quality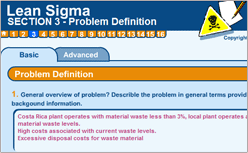 Lean Six Sigma Green Belt collates the information generated by the team and helps transform it into actions. Lean Six Sigma Green Belt facilitates improvement meetings, asking the right questions and seeks practical solutions.

Lean Six Sigma Green Belt sets the agenda for improvement team meetings.Now you can see the level of information available and track decision making. You are in control!

The Lean Six Sigma software captures the team's knowledge so that it is available to other teams working on similar problems. This helps increase your ability to manage more improvement teams simultaneously.
Faster and permanent resolution of issues across a multitude of industries
During the Lean Six Sigma Green Belt course you will learn :
Create the problem statement
Is / Is Not analyis
As Is/ To Be analyis
SIPOC analysis
Kano analysis
Set up the performance measurement system
Voice of the Customer
Voice of the Process
Critical to Quality metrics
Cost of poor quality
Analyze the process
Value stream mapping
5 S
Root cause analysis
Process capability
Process improvement
Idea generation
Criteria rating systems
FMEA
Control the process
Standardization
Solution validation
CBA validation
Green Belt Project Management
Avoiding project failure
Steps to green belt project success
Recommended text book: Juran's Quality Handbook: The Complete Guide to Performance Excellence 6/e
The Green Belt Lean Six Sigma training course is designed to give participants the tools to analyse business processes and implement improvements. The Lean Six Sigma Green Belt course is based on industry best practice.